Meet the Team
We recognize that all our patients are unique and deserve to receive orthodontic care that reflects their individual needs. Our experienced and talented team is committed to working with you and your family to create a comfortable, stress-free, and rewarding orthodontic experience every time you visit our practice.
We are pleased to welcome you and your family, and we look forward to working with you.
Allison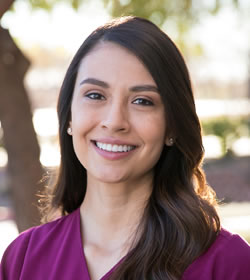 Financial Coordinator
Allison began her orthodontic career helping after school at her stepdad's dental practice and progressed to medical/dental/orthodontic billing. She joined our office in 2014 and is here to assist patients with all their insurance, billing, and scheduling needs. Her favorite part of her job is seeing our patients' lives and self-confidence transform because of their smile. Allison is an amazing part of our family-focused atmosphere: She is always willing to help her teammates with anything they need!
Allison is married with a young daughter and a cat named Rosie. The family loves eating out and exploring new restaurants, spending time with extended family, and getting together for BBQs, swimming, going to the lake, and camping.
Jennifer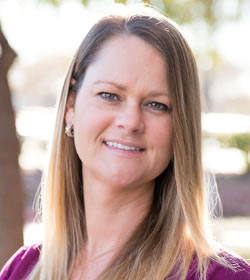 Orthodontic Technician
Jennifer attended Valencia Community College. She holds certifications in radiology and as a registered dental assistant, and has worked in the dental field since 1998. She joined Dr. Thalgott's team in 2017 as one of his orthodontic technicians. In addition to helping patients begin treatment by taking X-rays and photos, Jennifer also assists Dr. Thalgott by adjusting braces. She enjoys the one-on-one time she spends getting to know her patients, and seeing their beautiful smiles at the end of treatment.
Originally from Florida, Jennifer moved to Las Vegas from Houston in 2016 with her husband, son, and daughter, and three dogs. As a family, they enjoy camping, riding ATVs, and volunteering at Three Square food bank. She and her husband also enjoy hiking, playing golf, and watching movies.
Kim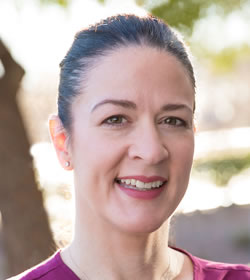 Orthodontic Technician
Kim's first experience with Dr. Thalgott's office was as a patient nearly a quarter century ago! Now, with the beautiful smile Dr. Thalgott gave her, she assists others to achieve the same. Kim attended CSN for her associate's degree in dental assisting in 2002 and joined us as a team member in 2003. She loves meeting and working with all our wonderful patients! She does everything she can to help them reach their goal of having a beautiful smile with braces or Invisalign®.
Kim has been married for more than 20 years and has two beautiful daughters who have great smiles, thanks to Dr. Thalgott. As a family, they love spending time on the lake in the summer and skiing and snowboarding in the winter. Most recently, they've started watching and supporting our Vegas Golden Knights—Go Knights, GO!
Renee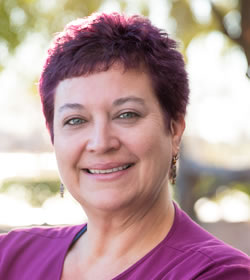 Clinical Coordinator / Orthodontic Technician
Renee has worked in orthodontics for more than 30 years, having earned her associate's degree in dental assisting from Santa Rosa Junior College in Santa Rosa, California. She has been with our office since 1996, happily working alongside Dr. Thalgott and coordinating patient flow by directing the doctor and assistants to ensure quality and on-time patient care. With so much knowledge and experience, Renee is great at putting patients at ease when they get their braces on. Her greatest goal is to show them that orthodontics can be fun!
Renee has been married to her high-school sweetheart for almost 30 years. They have a teenage son and a rescue dog. Renee's favorite hobbies include reading and hiking. She loves spending time outdoors and, whenever possible, volunteers with the organization Get Outdoors Nevada, which helps preserve our natural landscapes, parks, and trails.
Julie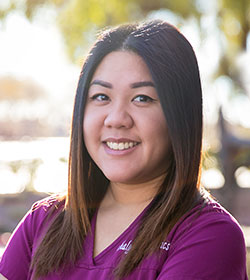 Orthodontic Technician
Julie assists Dr. Thalgott with patients' bonding and adjustment appointments, including taking I-CAT® scans, iTero® scans, and impressions. She began her career in 2012 in Wichita, Kansas and joined our office in 2016 after moving to Las Vegas. Julie enjoys being an active part of our patients' treatment and their smile success.
In her free time, Julie loves to cook and hang out at home with her boyfriend, Jimmy. They plan to get a dog and buy their first home. Julie looks forward to exploring Las Vegas and enjoying the sun!
Layne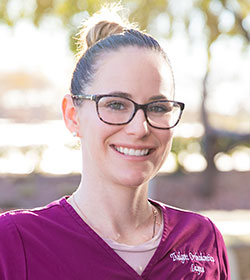 Financial Coordinator / Orthodontic Technician
Layne first began working with us in 2002 as a sterilization tech while she was still in high school. From there, she was trained to be an orthodontic technician and, after she had her children, started working at the front desk where she learned about insurance and finances in the orthodontic practice. She also plans our school and neighborhood events so we stay engaged with the community. Layne enjoys the day-to-day interactions with people: talking to them about their day and getting to know them better as they come in every six to eight weeks for appointments. She never forgets to emphasize the importance of great oral hygiene!
Layne grew up here in Las Vegas. She has been married for more than ten years to her eternal companion. She also has three wonderful children. Layne keeps busy with her kids' soccer and dance activities, and is active in her church. She and her family love to serve in any way they can.
Tori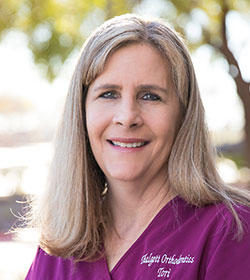 Office Manager / Treatment Coordinator
Tori earned her associate's in applied science in 1981 from Front Range Community College in Westminster, Colorado, and then became a certified dental assistant. She joined our office in 1990. Tori helps Dr. Thalgott manage the office and has the wonderful opportunity to meet all our new patients. She enjoys getting to know them during their first visit to our office, takes them on a tour of the office, and meets with them to discuss their smile goals. Together with Dr. Thalgott, Tori helps to make a plan to achieve each patient's functional and beautiful smile. Tori is in the "people business" and loves to connect with everyone on a personal level.
Tori is happily married, and she and her husband are learning how to be empty nesters. They have three children who bring them so much joy and six grandchildren who bring lots of laughter. Now their four dogs have become their new children! Tori enjoys the simple things in life, such as walks in the park, playing Mahjong, and visiting friends. She is actively engaged in her church and enjoys serving her fellow brothers and sisters in Christ.
Winston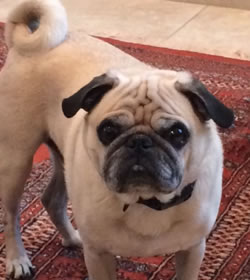 Mascot
Winston is more than a dozen years old and still very active! He loves to dress up for Halloween. He loves Brussels sprouts, taking walks, naps, chasing his toys, and of course his family! He hates to see us get our suitcases out because he knows we are leaving for a while.